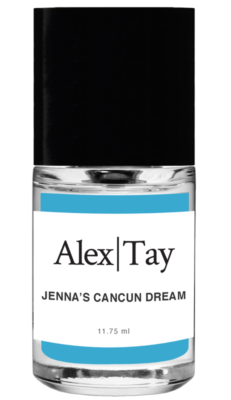 Alex|Tay is the world's first Custom Nail Polish system.
Not just a handful of colors, a whole world of color.
Snap a pic…tap your color…create your polish.
Choose colors that make you super happy!
Name your polish, any name you want, even include emojis!
With our custom nail color system, you can match your world in just seconds!
Colormatch Custom Color Nail Polish
COLORMATCH Polish is available in millions of personalized colors. Literally the world at your fingertips. A unique polish system with rich, dense and true color that glides on smoothly and dries fast and hard. Snap a pic, choose a color and create your unique shade!
Colorshimmer Foundational Base Coat
COLORSHIMMER Foundational Base Coat is designed specifically to help you make the most of your polish adventure. It's a semi-translucent, shimmery first step that creates great adhesion and enhances longer wear. Pops your color as no other base coat does.
Colorlock Bulletproof Glossy Top Coat
COLORLOCK Bulletprrof Glossy Top Coat can really take it! Tinted to enhance your COLORMATCH polish, our top coat resists yellowing while sealing your polish for long-lasting wear.  It's been formulated to resist chipping andwith a little care you can get over 7 days of wear. Give it another coat for 2x the wear.
Your color to match your style
You have your own look, your own style, your own personality.
Don't settle for the same colors as everyone else. Have your own.
What we think
We think you deserve the right to express your creativity and wear the color you want, no matter what it is. We think you know best.
We think that you deserve the highest-quality nail polish. We stand behind our products100% and work hard to make sure that you are happy
We think that your products should be free from toxins and manufactured in a sustainable way. The Alex|Tay custom nail color system is rated 7-free and we have been certified silver by the C2C Products Innovation Institute and have been awarded a Material Health Certificate which means our products contain no substances known or suspected to cause cancer, birth defects, genetic damage, or reproductive harm and all of our packaging is recyclable.